Serving our
Community since
_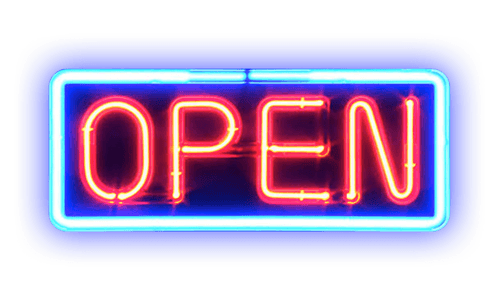 Monday – Saturday:
5 P.M. – 9 P.M.
Closed: Sunday

Try our
Prime Rib
available
This is Mary Etzkorn's steakhouse. A few years after her divorce, Mary decided she wanted to start her own steakhouse. She didn't have any money to finance it so she leased everything and used her credit cards and got it going. The name Mad Mary's was her sister's idea, who said, "You've got to name it Mad Mary's because everybody's going to know you're mad at him." She was referring to Mary's now passed ex-husband since this was after their divorce. Today, they have waiters and waitresses who have worked there for many years, some eight years, others 15 and others even longer. Mad Mary's Steakhouse has become a place for anyone and everyone. They have no dress code, which allows for everyone to come in, from truckers, to young families, to odd business travelers and even the governor. When asked about this, Mary said, "You can come in in a tuxedo or you can come right out of the field, and everybody feels comfortable. We have guys from a [livestock] sale barn come over …" So it goes without saying that Mad Mary's Steakhouse is one of the spots to stop by when in Pierre.
The Steak was cooked Perfectly!
Food was good and the steak was cooked perfectly. The food came out quick and the staff was friendly. Fresh break with each meal. I also got the bourbon shrimp which was really good.
Unbelievable Prime Rib
My favorite Prime Rib restaurant closed 20 plus years ago and I have been searching the US for the best Prime Rib sense. I FOUND IT AT MAD MARY'S STEAKHOUSE! The place is cool, staff is awesome and unbelievable Prime Rib. Didn't want to take the last bite because then it would be all gone… 7 hour drive from MN for us and it's worth it.
The food was amazing!
What a wonderful atmosphere. I wish more steakhouses were like this. The food was amazing. The steaks were cooked perfectly and with seasoning that made condiments not necessary.
Delicious steak and nice ambiance
My husband and I ate here on the recommendation of our Innkeeper. We were able to get sat right away at 6:30 on a Saturday. The place was busy and staff was efficient. Great fillet mignon and tasty deep fried shrimp. Price was reasonable but not cheap. Decor was fun to look at but not distracting. Would eat here again.
Wonderful atmosphere & service! Food cooked perfectly!
I walked in to Mad Mary's and was greeted by smiling faces and taken care of the rest of my experience! Being from out of town I was made to feel so welcome. My meal was prepared perfectly. Mad Mary's is a gem!
The steaks are out of this world!
Wonderful hidden gem that definitely should be on the top of your list if you are trying restaurants in Pierre. The steaks are out of this world! The burgers are cooked to perfection, the drinks are cold, and the sides are some of the best I have ever had. Come on, you gotta try it out! 🙂
ADDRESS
110 E Dakota Ave,
Pierre, SD 57501